eBanking - Online BillPay
Home >> eBanking >> Online BillPay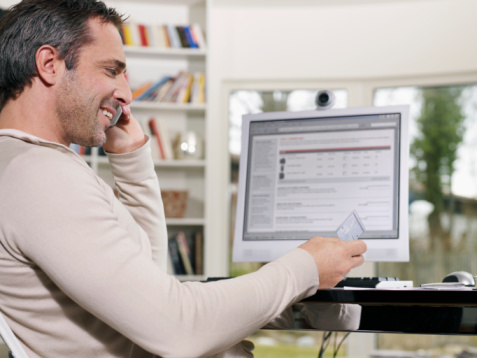 Simply put, KNB's online BillPay is the easiest BillPay system to use! Whether you need to pay an electric bill or send money to a friend in California, you can do it all through online BillPay.
Already using Internet Banking but want to get setup for BillPay? Contact us to get signed up.
I'm sure you've heard about paying your bills over the internet and wonder ... Is it easy? Is it safe? Does it really save time? The answers are yes, yes, and yes.
Easy
In just a matter of minutes you can be set up and paying your first bill. To set up a bill all you need is your payee's statement. After initial setup, you pay bills simply by putting in the amount of the bill and clicking submit. You don't have to be a computer guru. With step by step tutorials it's simple to follow.
Safe
With the highest level of internet encryption and top of the line physical security, you can feel safe to know that your information is secure. There are also built-in on-going identity security checkpoints while you are paying your bills.
Save Time
Imagine this ...
No stamps

No checks

No filling out forms

No addressing envelopes
---
Online BillPay Frequently Asked Questions
Is Online BillPay free?

Yes, online billpay is free to KNB customers who have an account.
---
How do I enroll in Online BillPay?

To enroll in online billpay, you must first be enrolled in internet banking. To enroll for internet banking and internet billpay you can click here.
---
Is Online BillPay secure?

Online billpay is recommended by security experts as one of the safest ways to pay your bills.
---
How are payments sent?

Payments are made in two ways - electronic or paper check. On average, electronic payments are sent to more than 70 percent of payees. For payees who can only accept paper checks, the subscriber's account is debited electronically and an authorized paper check is issued on behalf of the subscriber.
---
What are the benefits of electronic payments?

Electronic is the fastest payment method for subscribers and greatly reduces the risk of human error. Electronic payments are received by the payee within 2-3 business days.
---
What are the benefits of check payments?

Check payments allow you to pay anyone through your online billpay account. No more postage or trips to the post office. Plus, check payments through online billpay are electronically recorded may be stopped before 2 p.m. Eastern time on the date they are scheduled to process and are virtually tamper resistant. The estimated arrival time for checks is based upon the payee's zip code and is displayed while you schedule a payment.
---
Are online billpayments guaranteed?

Online billpayments are not guaranteed by the US Postal Service or Automated Clearing House Network (ACH). However, online billpay offers a payment success rate of 99.99 percent and greatly reduces the risk of human error. In the event a check payment is not received, our online billpay support will stop and re-issue the payment as well as provide proof of processing to the payee. Online BillPay also provides a history of your payments and payment information is integrated directly into account statements.
---
When can payments be scheduled?

Payments may be submitted at any time, day or night. All payments should be scheduled according to the process date and not according to the due date. For example, payments should be scheduled to process before the actual due date. Estimated arrival times are automatically displayed during the scheduling process. We recommend scheduling first payments in advance to ensure timely delivery. Payments are electronically debited from your account on the process date. For same-day processing, please schedule payments before 3 p.m. Eastern time.
---
Who can I pay with Online BillPay?

With online billpay, you can pay virtually anyone with an address within the continental United States, Alaska, Hawaii, and Puerto Rico.
---